Archive for the ' Uncategorized ' Category
Predictions
Film and TV
Avengers: Age of Ultron will outperform Star Wars 7 at the box office

Doctor who will return for series 9. Jenna Coleman will return for the whole season but this will be her final season.

I also predict the return of the Meddling monk

After Jenna leaves, the next companion will be male (probably a physical type like Ian Chesterton to the first doctor)

Broadchurch will finish and will not be picked up for a third one.

I predict Claire killed the girls and the Joe killed Danny
Tech
Tesco will stop selling and producing the Hudl. Tesco will be forced into  selling them off cheap in order to get rid of them.

The market will become flooded with cheap android tablets

OggCamp will run this year

but it will probably be the last one.

with the demise of the Doctor Who podcast I predict that Doctor Who:Podshock will be the next Doctor Who podcast to shut up shop.
Politics
The general election will result in a win for the Conservatives

although they may have to form a coalition.

Oil prices will continue to fall, or at least level out, making for less pressure on hard pressed families, hopefully leading to more confidence in the high street
So based on that Dave was right 44.4%, and wrong, and unknown 22.2% giving Dave a 66% correct (or possibly)… so as I'm feeling generous – I'm awarding the Nostradamus award to Dave this year.
Well dear readers – it's finally happened.  Those of you that know me know that I have been working towards this goal for a while now.
Today I got a replacement bank card.
Now – I know that's not a big story right?  I mean people get replacement cards all the time, and I am no stranger to getting a replacement bank card.  Except that this is the first time that I have had a replacement card because of the expiry of the old card.
For me – this is a huge deal.   I've had to get replacement cards before now because I've put them down somewhere at home, only to find them the second I get off the phone with the bank.  I've even snapped a card in half using it as a make-shift ice scraper.  But this new card is an achievement – and one I am really proud of.
The other week Miss Vicki and I went to see SPECTRE, and maybe it's my age, but while I enjoyed the film, later on I felt that a lot of the film was trying its hardest to dig up 1960s bond memes
Hey remember Bond drove an Aston Martin? Quick chuck in an Aston Martin – quick!

Hey, remember how cool all the voodoo stuff was in Live and Let die? here's a sequence at the Mexican Day of the dead for no reason whatsoever

Hey remember the crap flirting between bond and Moneypenny, that somehow looks sexist in a modern society? SHAZAM- it's back Baby!

Hey remember that sometimes Bond villains wore Mao suits or Nehru jackets?  let's do it!

Hey remember how bond villains used to have rooms full of henchmen operating machinery? yeah chuck a high-tech headquarters in there
Well here at the Bunker we have wings of high-tech machines that go ping and are operated by legions of guys in overalls and hard hats so we know a thing or two about  running an underground base, so I thought it would be fun if I dug out this months copy of 'Lairs and Bunkers'
and look at some of the reviews inside:
---
classic with full on retro 70s stylings, with occasional swathes of red which is a welcome relief. Everything here is a monochromatic nightmare. Granted it can destroy a planet, but sheesh!
The word here is variety, there are lots of different styles of Henchmen White plated storm troopers, Black plated TIE fighter pilots grey officers all suited and booted with a certain Nazi stylings chuck into the mix the black-robed Emperor, and Darth Vader. However having lots of different Henchmen does not make up for the fact that yet again everything is GREY! it's a mercy that imperial guards are crimson, because otherwise I might think I was watching a black and white film.
Well, where to begin with this? The layout of the Death Star seems wildly illogical, the station seems to be hollow, with the most dangerous explosion-causing device (the main reactor) situated in the dead centre of the facility. This means that an explosion will destroy the whole facility. Whereas positioning the reactor off-centre would only destroy a section of the facility, and would allow the henchmen time to get to escape pods. The designers for the death star also thought that having long bottomless shafts without handrails was a perfectly acceptable way to design an interior along with doors that operate bridges. This is important if you are a storm trooper, you can surely not see much in that helmet and the reduced visibility will only lead to more accidents, which is a damming indictment of what is a government facility.
Don't Believe the hype. The ability to destroy a planet is insignificant next to the power of a work place free from tripping hazards and bottomless pits.
---
Name
Joker's Lair – Batman
Vivid bright colours and circus memorabilia all over the place, there are very few Lairs that accurately reflect the personality of their owner, The Joker takes every lair he has and makes it something totally unique. But here's the problem: Any city planner worth their salt would simply devise a scheme where a wealthy philanthropist, like Bruce Wayne, could buy up all the disused joke shops, factories that made goods for joke shops or derelict fun fairs and turn them into affordable homes, reducing the number of potential lairs for the joker, it also makes him very easy to find.  The point of a secret lair is that its secret.  If batman can guess where you live and he's right 9 times out of 10, then maybe its time to think about changing your property M.O.
Depends, Sometimes the joker opts for normal hoodlums and gives then cars to match his colour-scheme, sometimes he demands they actually dress like clowns, and some days he simply hires a lot of hoodlums and kills them off during the heist! Capriciousness. This makes for a stress filled working environment, No doubt an average henchman's locker will be crammed depending on the mood of the joker, or if it's dress-down Friday.
Structurally, The Joker's lairs seem sound, if not a little dilapidated. They have all variety of exploding props and things with spring-loaded hidden blades that can cause problems. There is also the possibility you will be sacrificed by your boss just for a punchline.
The Joker's lair is surprisingly well laid out with a consistent aesthetic.  High turnover of staff however will cause problems for the continued smooth running of the lair.
---
Name
V's Lair – (V for Vendetta)
As a contrast to most of the lairs on the list, V's lair is can be described as a Man-cave for the intelligent man. Expect to see priceless works of art hanging on the wall next to a Wurlitzer jukebox , books stacked ceiling high and a copy of the Count of Monte Cristo on DVD.
None, This is a solitary place, a refuge from the world.  The last thing V needs is a house guest – if you do find yourself his guest, expect to stay for at least a year.
There is very little wrong with V's lair, probably the only thing V would need to worry about would be to make sure that his central heating boiler is serviced regularly, as with no windows, any build up of carbon monoxide could prove fatal. On the plus side the lair does come with its own tube train and track – only 1 destination – but it beats walking, and do you know how much property prices are in London these days?
A place for quiet reflection, the overall feeling from this lair is of overstuffed wing back chairs, some Vivaldi or Ella Fitzgerald playing in the background and some dusty tome to read, accompanied by a cheeky red wine.
Well that was quite interesting, I'll probably grab the next issue and print some of them out too.
Picked up a London evening standard on my way to London today.
Last week was OggCamp – and we've both had a somewhat fallow week this last week.  Dave has been working on illustrations for a set of Cambridge folk stories, and I have been researching trophies, and wrote a page on the Tuxters project site about trophy construction.  As Dave has been so busy working on illustration work, he hasn't been able to complete the OggCamp video.  Of course other TitaniumBunker videos from OggCamp are available on YouTube.
I don't want to replicate what I wrote there – but I will say that I am now putting my fledgling 3D modelling skills to good use in an attempt to create a 1/4″ hex nut model that can be used to boolean out a cavity.  Looks like my skils aren't that great, and my blender-Fu needs work.  Luckily I know someone in the trade so to say so he was able to advise me of where I went wrong.
Speaking to Dave over the weekend he suggested that 3D printing trophy toppers could be time consuming and expensive.  Therefore we think that the best approach would be to make moulds based from the original 3D print and then cast using resin.  He pointed out that 1 3D print could produce multiple moulds, and each mould could cure simultaneously. So this is something we're going to look into.
Here's a video about 3D printed moulds – so that might be something to look at :
Dave and I are off to Liverpool over the weekend to attend OggCamp.  This year Dave is speaking about his Snail Tales project development.  I'm looking forward to it. I'm also looking forward to the Unconference aspect of the weekend – for me this has always been the biggest draw rather than the scheduled track.
I received a letter from my local council regarding the electoral register, and that I needed to refresh my information.  So I visited their website and entered the super secret codes from the letter to obtain access to my records.  I must say the process seemed straightforward enough – until I reached the feedback section.
Now I hadn't noticed until the feedback form, but the querystring contained quite a lot of information. I had a quick play with the feedback form, and sent the following communication to the technical department at (I assume) Electoral reform services Ltd.  Here's what I sent them – I've censored some of the data within this communication. For more information, the code1/code2 are the security codes from my letter.
I was just looking around the feedback form (I just completed my form on-line) – Have you guys seen how much data is sloshing around in the query string? Here's the address of this page :

https://registerbyinternet.com/Home/Feedback?authorityId=xxx&
LanguageId=1&PropertyId=xxxxx&
Address=xx%20Xxxxxxx%20Xxxxxx%20%2CXxxxxxx%20Xxxxx%20%2CXxx%20xXX&
code1=ZZZZZZ&
code2=ZZZZZZZZ&
OnlineRespondentId=xxxxxx&
OnlineRespondentName=Michael%20Anthony%20Hingley&
ClientName=Xxxxxxxx%20Xxxxxxxxxxxx%20Xxxxxxx%20Xxxxxxx

https://registerbyinternet.com/Home/Feedback?authorityId=xxx&LanguageId=1&PropertyId=xxxxx&Address=xx%20Xxxxxxx%20Xxxxxx%20%2CXxxxxxx%20Xxxxx%20%2CXxx%20xXX&code1=ZZZZZZ&code2=ZZZZZZZZ&OnlineRespondentId=xxxxxx&OnlineRespondentName=Michael%20Anthony%20Hingley&ClientName=Xxxxxxxx%20Xxxxxxxxxxxx%20Xxxxxxx%20Xxxxxxx

What's interesting is that this query string data is just slapped into the fields, meaning that if you change the URL, you can effectively send a feedback about a different authority, or person, or address or indeed anything. Why not store this stuff in session, where I can't access it?

Potential implication : Spam messages sent to every council about every property from a fake name. Once feedback is sent feedback cannot be re sent – this would be a denial of service for all legitimate users.

Potential implication : XSS – These values are posted into the page into fields. It should be possible to strip out anything that looks like JS, and hopefully you've done that. I'm too scared to try it.

Cheers

Mike Hingley
It's possible that this information was floating around all the time on my query string but I never saw it.
Last weekend, miss Vicki and I ventured firth to Leeds for the NODA AGM. It turns out that a poster I designed was in the running for the Thomson Leng trophy for the NODA national poster design competition.  I ended up winning first place  so I thought it might be a good idea to write about the poster and how I made it.
I was asked by the director to design a poster for his production of communicating doors. He asked that it be cartoony and a little comic book like
I had long admired the artwork by Adrian Salmon on the Big Finish Bernice Summerfield audio CDs. Here's an example of one
I love the use of the black line and the  fill colour in this case blue. I thought it was cool approach to colour I would try to apply to this poster. I spent a couple of hours noodling in
Krita
and came up with a rough colour study
The character proportions wasn't that great so I set about drawing a better layout on 12 field animation paper.  I photographed it and imported into my computer
I inked up and coloured the artwork in Krita. Blocking off the bottom of the poster where  the show information was going. The director wanted to add that information there himself,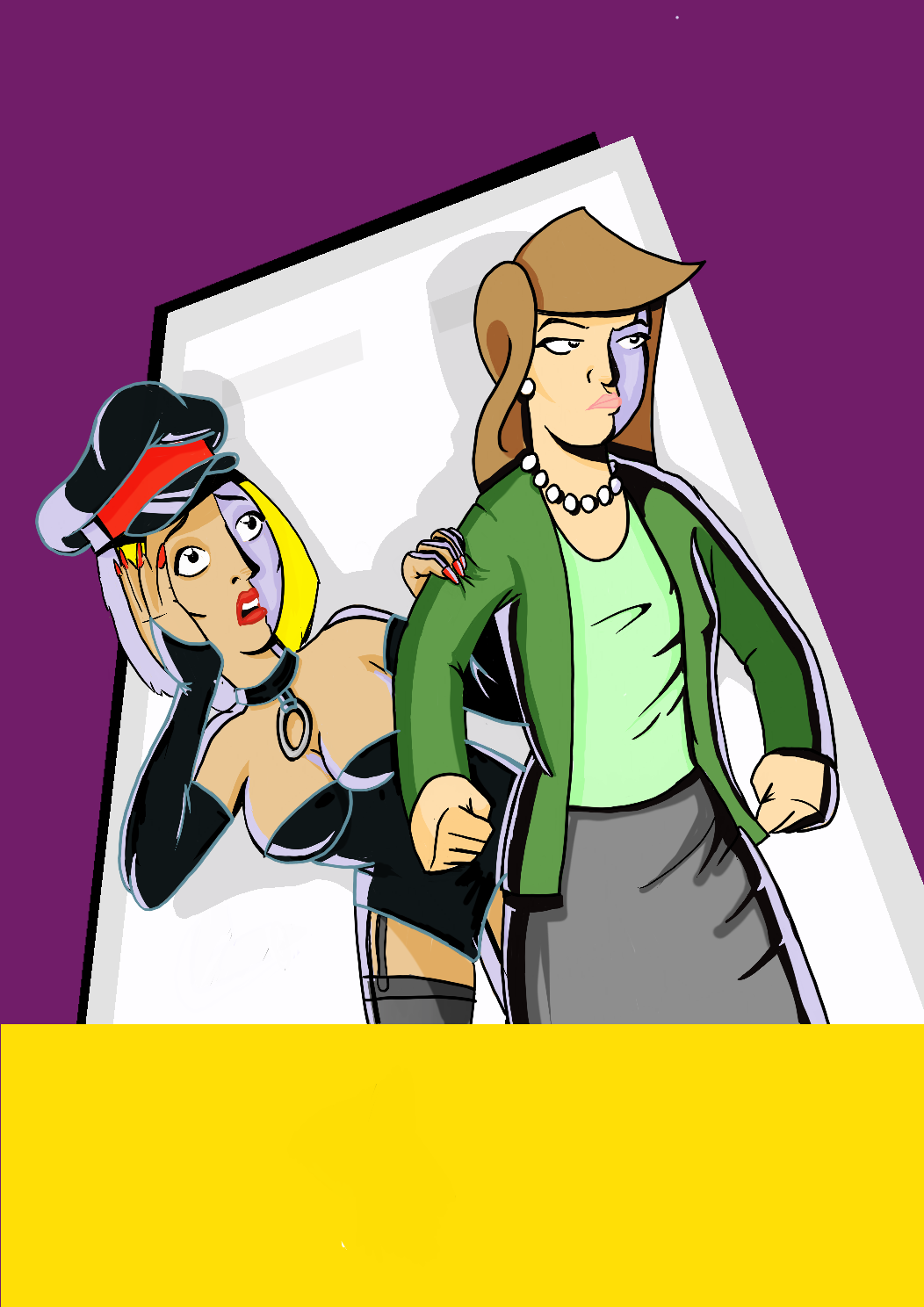 Next up, Typography. I saved a flattened version of the post from Krita and used it as a template to create the curved text for the title of the play. I got a number of fonts I thought would work well for the title and ran them past the Director, We both decided that #3 was the font
 I removed the template and saved off a png of the page before loading it into the layered krita Document and adjusting it position a little.
 Finally I sent the Artwork off to the Director for final approval before he added the show information to the bottom of the poster.
Here's the Final poster:
Finally here's a picture of the Thomson Leng trophy.
I really enjoyed working on the poster. Thinking back it was one of the last things I drew on my laptop, It used to hang and crash krita a lot, but now I upgraded the RAM it might be time to revisit drawing on my laptop. The last couple of productions for Waterbeach Community players, I have used photo montages for poster designs, hopefully the next one I can draw again!