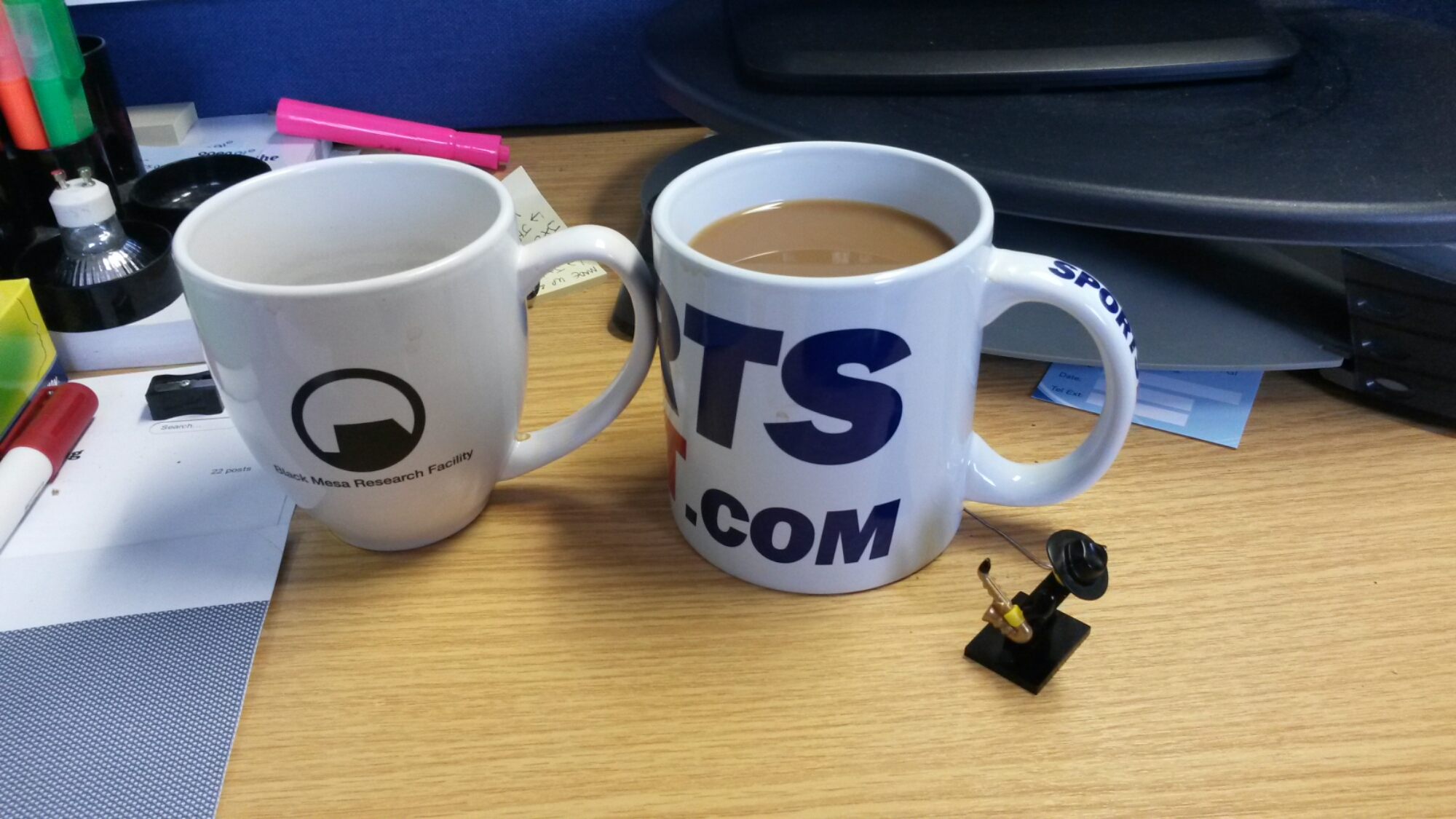 Rach got a sports direct mug… Here is is on my desk full of vending machine coffee. It holds 3 vending machine cups, whereas the aperture science mug next to it only holds 2 vending machine mugs.  My little jazz Lego guy is in awe of the scale of this coffee!
I have been working for a long time on a short piece of animation. It's been made longer by my insistence on using purely Open source software to make the animation with.
I decided to use Synfig Studio and set about creating characters over a year ago.
Of course real life got in the way of this. There was a house move, and of course there's been my work on Elite Dangerous and Zoo Tycoon as well as the work I continue to do for Hoo on Who. but here are some early tests and work in progress shots for the short.
In the original story board the opening shot was much shorter and it was static but I have decided to make it a longer shot to better establish the kingdom in this early test, there are no peasants, I will add a couple of peasants to the fields and village.
the scarecrow I added on a whim. I had watched the Wizard of Oz a couple of days previous and  trying to think what i could put in the environment to help set the scene, I thought it would be fun to animate a scarcrow. I built and rigged a scarecrow and animated him making a little wave and turning his head to look to camera.
A lot of his animation is masked by the tree currently. I might put the tree on the first  hill so it is well out of the way .
In this shot, the Cat detective is being telephoned by the Queen to come find her stolen money. I wanted to give some contrast to the cat detective's office, so I designed it to look more Noir-ish and forced the perspective. I always though it could be funny to have the cat play with a ball of wool while taking the call, the idea to put the framed picture of a ball of wool happened as I was designing the background. Originally there was going to be a newtons cradle in the foreground, but the scene was busy enough and I didn't want to pull focus from the cat.
In this shot, the cat detective is looking through his magnifying glass. I used two copies of the cat detective, and used the shape of the magnifying glass to mask out the larger cat
this shot is tricky and is in the process of being re animated.  The cat detective is climbing up a spirtal staircase, following the dragon prints. The Background was a 3d model I rigged and animated in 3DS Max- still frames were rendered out and the cat detective was then animated to look like he is climbing the stairs. I changed the camera angle to better show the dragon prints. so the cat Detective needs reanimating.
Using open source software has not been easy.  There are certain thing I like to do when animating that Synfig forces to you abandon. In order to combat this, Mike and I wrote Synfig Stage, This software will allow us to compile new scenes with copies of the existing characters in the production. expect a video of it in action soon.
Synfig also has a very steep learning curve, but as with all things, the first time you try anything it will always be hard. Subsequent attempts are quicker and some of the newer chacters have taken less time to rig and in some cases these rigs are more complex than others.  I hope to have a few more shots done soon. in which case ther might be other posts about this (which is why its optimistically called part 1).
I am sure like most people I am a fan of Family Guy, It's generally on BBC3 on an evening, and one of only a few reasons to keep the channel.
I also have an Android Phone, so when 'Family guy- the quest for stuff ' came out I donwloaded it and have playing on an off for about 6 months.
Right now there is a comic-con tie in event. part of the event involves you collecting film canisters to free Ron Pearlman. You can collect them by building a screening theatre. \But lets have alook at the theatre: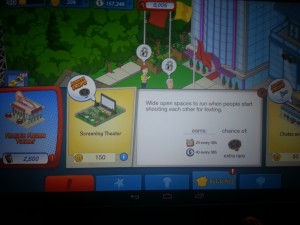 I tweeted the developers TinyCO .
@Tinyco : A screening theatre always drops film canisters but they are also extra rare. which one is it? pic.twitter.com/DUh6QyUPJ0

— titaniumbunker (@titaniumbunker) August 10, 2014
if we hear back we will follow up on this
It's a sad day here at the bunker. Last night the PSU on my trusty PC blew. Today there was an examination by one of the tech guys . It seems that the PSU took the motherboard with it.  My trusty friend has bought the farm after 6 years
So it looks like I will be looking for a new PC. So all the videos I have been working on will have to wait.
Farewell my friend.  You will be missed.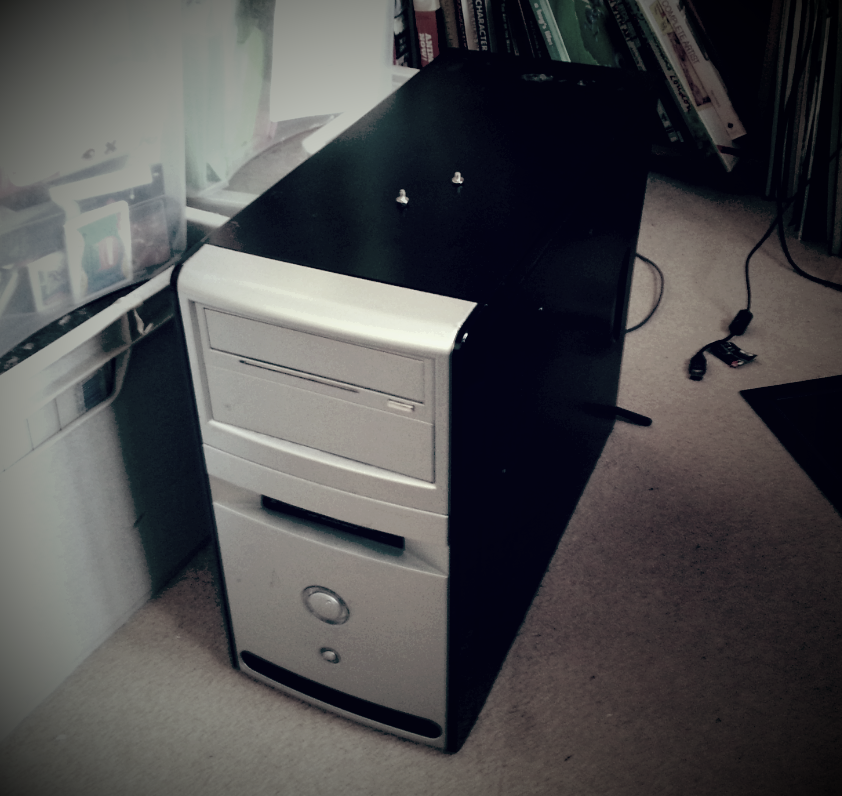 Lest we forget…
I know it seems ages since I last posted on here. but things are afoot
For those of you that dont know., I am a technical animator at Frontier. My job involes solving animators problems and for the last year or so I have been working on Elite:Dangerous which has just gone Beta:
In addition to that there have been a  number of things going that I will list here- expect more follow-up posts later
I am working on 2 videos for titaniumbunker.TV 1 is a devlog for the process I use to make showgraphics for Hoo on Who. the other is a travelog of a visit to Cardiff I made in June.
Miss Vicki did the race for Life (20/8/14) and did in a respectable 1 hour. I shot some video and might try and edit something together for that. you can see a picture of Miss Vicki and her mum crossing the finish line
My good friend Chip Calqhoun who hosts the Graticast, did a livestraming blindfolded head shave from our house. Miss Vicki and I helped present the show and you can watch it here:
Finally. Progress has really started to move on a short film project that has been over a year in the making. I am using nothing but open source software to make this. Expect a post or video over at Titaniumbunker.tv  With a little luck I might be able to show some of this footage at this years OGGCamp.
Miss Vicki and I were involved in a Walking tour around cambridge looking at shooting locations for the forgotten episode of Doctor who, Shada. expect a video about that as well
I got an upgraded new and shiny laptop last week, so I thought I'd see if Automattic - providers of the rather wonderful WordPress do a client for Windows.
It appears they do…
It appears they don't.
If something has been removed from the store, why can I still find it in the store.
Anybody got any suggestions for a wordpress client for windows 8.1?
I have been 'studying' for an exam, and I'm glad to say I passed. The exam was the 70-480 Microsoft exam.  Interestingly I used the Microsoft Press Training Guide for this exam, and I have to say that I'm disappointed.  There are issues and flaws with this book that – quite frankly when you consider the price (£19) just shouldn't be there.
Microsoft also seem to have radically changed the way that they do errata.  Visiting the Microsoft Press page for this book provides NO information about errata already submitted for this book – which is strange because I submitted an errata about a broken table of content through twitter – no mention of it there – and no further feedback…
https://twitter.com/MicrosoftPress/status/469161257849720834
I would have tried to fill in the errata submission form, but there's a pesky bug in the book – it's missing an ISBN number.  Way back on 21/05/2014 I received email confirmation from MS Press that they were indeed aware that there is no ISBN number for the ebook and therefore errata cannot be submitted for this book – but as of yet no response.  Given that ISBN is a required field for submitting errata, it must therefore mean that there can be no errata submitted for this book.  I predict we'll hear nothing about any bugs or issues with this book, and MS Press will just quietly issue a 2nd edition.  Leaving all of us with this version of the book with the option of paying to receive mostly the same book again.  Then again I have been wrong before.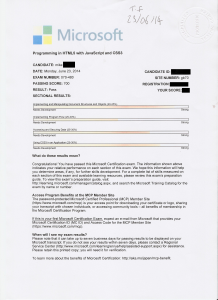 Now the web page for this book does give 2 numbers next to it, so maybe they're supposed to be the isbn numbers for the different formats of the book.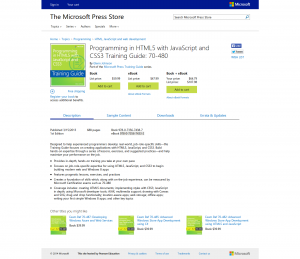 The apparent ISBN number for the Ebook (978-0-7356-7433-2) does seem to validate using isbn-check.de, and gives instructions to search amazon for this ISBN number .
so I did just that…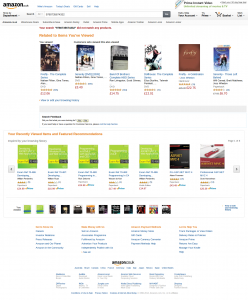 So – to be fair I tried picking a book off my office desk and searching for that ISBN number 978-1-849-90328-8.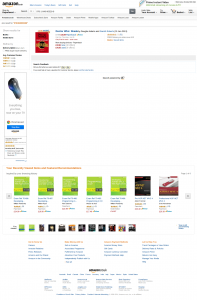 It's a match – so it would seem to suggest that this ISBN number is not registered properly, and the other ISBN does seem to find the paperback edition of the book.
Anyway – if you're interested here are my comments on the book – These may seem confusing because I'm not able to provide any context about what I am referring to – the Copyright of this book prevents me from reproducing any part of this book without the permission of the publisher.
Note: 

This paragraph is repeated from the previous column – where the book suggests that Object can be used to embed a web page. This paragraph is kind of useless – telling someone that it is possible, without telling you how, and then not recommending it as a solution seems a waste.


Note:


Need to check this – but i think these are wrong. The questions give options in terms of 1,2,3 etc. The correct answer is given as 'c' and it then talks through the options as 1,2,3 etc This is inconsistency on chapter 2? so early in the book .

Note: 
The specification gives the following : http://www.whatwg.org/specs/web-apps/current-work/#boolean-attribute "A number of attributes are boolean attributes. The presence of a boolean attribute on an element represents the true value, and the absence of the attribute represents the false value. If the attribute is present, its value must either be the empty string or a value that is an ASCII case-insensitive match for the attribute's canonical name, with no leading or trailing whitespace." However the example code does indeed show disabled being used.
Note: What's with the keys?
Note: 
Or by pressing the cross in the red square (top Right of Figure 3-2). This operation also returns a null, essentially the same as pressing cancel.
or false (when the Cancel button is clicked):
Note: Or if the close button is pressed.
Note: Is it me, or is NOTHING in this code sample bold?
Note: Yup – someone forgot how to do bold here…
Note: 
This section is practically a Copy/past from the previous section.. I hope the author isn't being paid by the word!… Cannot see what special benefit this gived in terms of installation as the process seems identical.
Note: Looks like someone forgot to make something bold here again.
Note: confusing here. Firstly you say "ID MUST BE UNIQUE", then you say that the selection criteri affects "Any element whose id is btnSave" – there can only be one element right? Therefore shouldn't that say "the element whose id is btnSave"
Note: What's going on with the question numbering here
Note: huh – every div with an Id? there can only be one right?
I attended last year at the Novotel, Bimringham – this year, the venue was theStudio Birmingham. I'd like to say a big thank you to the staff at the studio, who looked after us for the whole of the Saturday – I'm happy to report that the facilities are excellent, the staff were great and it's a great location. The wifi worked like a dream, and I was able to live post onto facebook all the talks that I saw. I'd suggest that if you're a local company looking for meeting space that these guys may not be a bad choice.
I'd also like to say a big thanks to Quentin Wright  and the representatives of Floss UK
I proposed a talk about the Ubuntu Ebook template, but unfortunately due to time constraints I was unable to present.
Group Discussion on : NSA Security Stuff
There's no photo for this, as this was a session that we sort of went straight into.  Given the current news articles about NSA security, and the abilities.  We tried to limit ourselves to 30 minutes – however with such a wide ranging and encompassing topic the conversation did (on occasion) meander towards very similarly related topics.  The conversation was 'chaired' or managed (if you will) by Tony Brookes, who had a history exposed to military security, and network 'stuff'.
Mark gave a very quick presentation about the history of the OggCamp un-conference.  There's not much you can really say about it – hopefully lots more people know about OggCamp.
Ron Wellstead – local Wolves Lug Hero, attempted to give a talk about Software Defined Radio.  unfortunately Ron had some issues with X and projector compatibility – Similar to the issue that Dave had during OggCamp 2013.  Ron had to abandon this talk, but popped up later.
Jon Knight on : Captive Portals (bumps in the wire)

In this presentation Jon spoke about how he put together sign in systems for wireless access points.  This system allows you to have an open network, but at the same time have some element of audit regarding the usage.  The basic principle is to use a multi homed system and use MAC based routing to identify devices, and then use an authentication system to allow that device to route through to the wired network, and hence the internet.  Jon mentioned chillispot as a potential project to use.  His system was based on the same principle, but also linked to ownership information stored in an external database.
Tony Brookes on : Qgis

This talk examined the package Qgis.  Rachel's Father is a keen surveyor, and when he worked, did a lot with the local councils to analyse the local geography.  He was a mineshaft surveyor and has a hobby of plotting the historical mine shafts against the current modern maps.  This tool would be an ideal benefit for him, as he currently uses paint.net to trace and convert his maps.  I'll be experimenting with this to see what it can do, and hopefully it might be of benefit for him.
Mark gave a talk very similar to this at OggCamp.  in this discussion mark spoke about the challenges he faced when setting up his own cloud, hosted on his own hardware – including the challenges associated with Dynamic IP allocation, port forwarding and cname records.
Ron finally managed to give his talk about software defined radio.  The big takeaway for me was that the barriers to entry are getting lower and lower all the time.  It occurs to me that if someone wanted to set up a secure private network, that a radio based transmission network, where both ends are configured for encryption this might not be a bad way to go.  I wonder how Teresa May would deal with that?
Chris Ellis – who now works on conjunction with Transitiv Technology gave a talk extolling the virtues of postgress as a replacement to MySQL.
Some Guy  on : Samba

I had popped out of the room to get coffee,and when I popped back in this guy (sorry I don't know who you are) was giving a talk Samba.  I was flagging at this point so I didn't really get what was going on – something about LDAP?
So that's community curmudgeon and podcaster of the Dick Turpin Roadshow talking about how podcasting works.
Alex Willmer  on : Bitcoin

Alex gave a talk on bitcoin and how it works. I'd seen a similar talk to this before a couple of years ago, and Alex has now updated his slides to show the progression of time for the bitcoin platform.
Following that we all retired to The Wellington to chat about technology and ITand drink beer, and Chris and I (well mainly Chris) got lumbered with the wierdo on the train – which for once wasn't me

I've been working on the Ubuntu Ebook Template – first of all – I should say that progress is – well – progressing nicely.  The System now allows an MP4 audio book, along with an Ogg audiobook to be produced when 'reading' the book.
So I thought I'd try it out on something more substantial – Charles Dicken's Oliver Twist.
Throughout this project, when I have wanted a couple of chapters to check how paging would work on a physical device (for example) I would load up the Project Guttenberg website, and copy and paste some of the text for Oliver Twist.
This evening I was looking through the text on Project Gutenberg, and I was surprised to see the following, towards the end of Chapter 11
'D—n me!' cried the old gentleman, bursting out with the rage he had kept down so long, 'd—n me! I'll—'
I was thinking that I didn't think that Dickens would censor himself – so where did the changes come from?  Initially I had thought it an attempt to censor some of the language – however this doesn't seem to stack up with the other uses of "Damn" in the rest of the text.  Instead I believe this to be a transcription error.  When the transcriber was typing up that chapter he was unable to read those two words, and therefore signaled this with -.
What's also interesting is that searching for "Oliver twist d–me" using Google returns the following book provided by Google Play Books.  The same 'censoring' appears in this book also.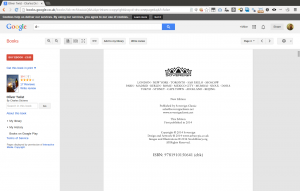 And then there was the copyright page. Oliver Twist was written by Charles Dickens in 1838, so I was wondering what the copyright claim at the front of the book was far.  The bottom of page has the legend "Copyrighted material", so does this copyright claim extend to the text?
I was (and am) confused by this, so I emailed Sovereign to try to get some clarity.
Hi -

 and I was just wondering if someone could explain the Copyright of this book?

So the book was originally published in 1838 by Charles Dickens, and the text for this book is available from the Project Guttenberg site here : 

http://www.gutenberg.org/ebooks/730

.

On the inside cover of your book you state Copyright 2014 Sovereign.

Can you clarify what your copyright covers?  I'm guessing it is the original content (Inspiring Books) that you added to the end of the book ?
ISBN Number 9781910150641 doesn't seem to validate as a valid ISBN number – I've checked

Thanks

Mike Hingley
I hope to hear from them soon, and will write an update when I hear anything.