Remember the sad loss we suffered here at the Bunker mid last year?
yes, my trust old Desktop PC died, leaving me unable to do a lot of the video work I had planned on doing. (read the sad details here)  Since then I cast my net far and wide, searching for a replacement at the right price (free)
well, after many months, I now have a PC I can turn into my new Linux desktop box!
lets see the wee beastie shall we?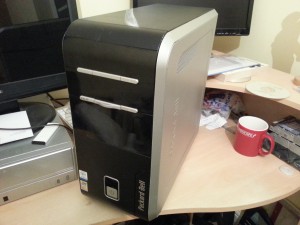 Well its a Packard Bell imedia 1308  rocking a gig of RAM, and a 160 gig HDD but instead of a Dual Core Processor its got a intel Celeron 2.93GHz processor and seeing as there are no files of mine on there, It is the perfect candidate to become solely Linux mint install! no dual booting here, it wont be as fast as dual core or quad-core processor but for the price (did I mention free?) and what I plan to do on it ( video editing and file management) it should be ok
Firing it up .it's a very quiet machine, Until now, I never realised just exactly how loud the old PC was!
but looking at it, there's one small problem there's no wireless card! it's also using the built-in video card . I think what I need to do is open up the carcass of the old Pc and perform some gruesome Transplantation!!!!!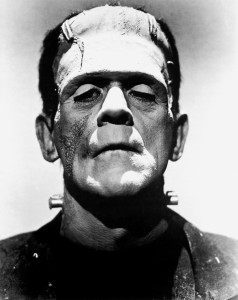 I opened up the case and extracted the video card and the wireless card.  Opening up the Packard Bell, It looks like the motherboard doesn't have any AGP sockets or PCIE ports.  I was able to swap out the old dial-up modem card for the wireless card. I  then installed the Linux Mint installer ISO onto USB and did a complete install from there.
The BIOS for this computer made it really easy to override boot order. So getting the iso to read from USB was a breeze. I did however get a message telling me the display wasnt accelerated so there may be  performance issues, going forward. Once at the Linux Mint Desktop I simply clicked the icon to install Linux Mint and selected complete install. Within an hour I had a machine running Linux Mint.
next up to install the software I intend to use on it (Synfig, KDenLive, Gimp,Inkscape)  and possibly a lighter desktop manager. I also got to get a new graphics card on there. At the moment its using the built-in graphics card which is not very fast.  The old graphics card was a PCI express dual head graphics card. but there are only PCI cards. What I need is a dual head PCI graphics card that's fairly nippy and yet inexpensive.
One of the benefits of using older technology is that upgrading can be inexpensive. The mother board can take a maximum of 2 gig of ram.  The motherboard has 2 slots, so if one slot is used then I need only get another 1 gig memory card (£15 online) or if it's using both slots, then 2 cards(£30) and already I have increased performance by 200%  and made the desktop nippy unto the bargain.
Of course what I am using the computer for is not necessarily high-end . Yes, rendering video can be processor intensive, but the hope is that the trade-off is increased render times as opposed to not having any renders whatsoever. Once I got the rest of the system set up – including of course the search for a worthy desktop screen, then I can run some benchmarks and try some video rendering – fingers crossed!